Welcome to the Parish Church of St Mary the Virgin in the heart of St Neots
Forming disciples of Jesus Christ for the transformation of God's world
Join us in building a welcoming, caring, Christian community that draws on all that is best from the rich traditions of the historic Church of England and modern liturgical practice to make the message of the gospel of Jesus Christ live for the people of St Neots today.
Our main Sunday Service is at 10am.
Do join us - everyone is warmly welcomed and we are especially pleased to see young and old at our services.
The Rev'd Dr Paul Andrews, Vicar,
Please note that the vicar will be on sabbatical leave until 25 October 2016, for all enquiries please email: office@stneots.org
Haiti Disaster Appeal
Last Sunday an impromptu sale of books was held in the church rooms after service and as a result £100 has already been contributed to Christian Aid for this appeal.
It is proposed to continue the sale for two more Sundays (16th & 23rd Oct). Your contributions of clean saleable books of general interest will be welcomed (not TOO many please). Please also keep the poor suffering folk of Haiti in your prayers.
Holy Communion at St Mary's Primary Academy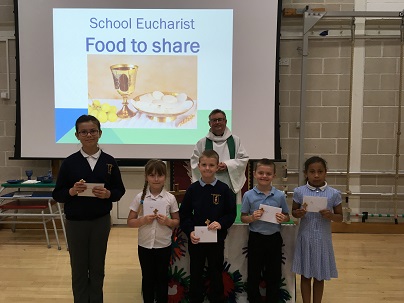 Fr Paul with Aleksandra, Matylda, Alfie, Hayden and Paige, who were admitted to Holy Communion for the first time at the School Eucharist held at St Mary's Church of England Primary Academy on 1 July 2016
Congratulations and well done to all five children
Electronic Newsletter
Would you like to receive a copy of our newsletter? If so, please email us at webmaster@stneots.org